A dynamic approach to preventing Repetitive Strain Injuries (RSI) and Computer Vision Syndrome (CVS)

Our ergonomics trainers have decades of experience coaching movement efficiency and dynamic alignment for prevention and recovery from ergonomics and overuse injuries.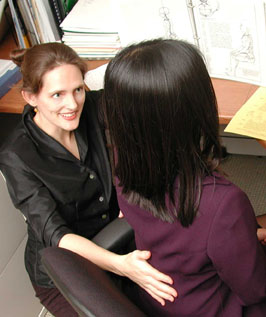 Ergonomic Workstation Evaluations:
We work with individuals on-site at their desks to solve problems in workstation setup, posture and movement patterns. Repetitive motion injuries require close attention to the movement habits that may be contributing factors. Our trainers are all certified movement analysts who will make immediate improvements to your existing workstation setup, as well as recommending both postural and equipment improvements. Movement injuries require movement solutions!
We specialize in finding easy, cost-effective solutions that you can implement right away. We make movement suggestions that are easy to integrate into your workflow. And we give plenty of coaching and exercises designed to encourage healthy habits specific to each individual.
Your body wants to feel good! We provide you with a variety of dynamic postures that you can remember easily and enjoy long after your ergonomics assessment.

Individual workstation analysis includes assistance with:
24 Hour Cancellation Policy
Please note that The Body At Work maintains a 24 hour cancellation policy.
Your appointment time is reserved for you; last minute changes leave that time unavailable for other clients. Thus we charge full rate for appointments cancelled or rescheduled less than 24 hours in advance.